JUSTICE OF WOMANIA EMPIRE
COURT VERDICT No.: GvM009/18

Madame Gabrielle von Malendorf, Authorized Court Lady-Officer,
has decided in the Court Case no. RCR010 as follows:

In the name of WOMANIA EMPIRE,

I.

the accused payslave mwhtp ( +payslavemwhtp ), UK
is found
NOT GUILTY
at these points of his self-indictment:
1. Possession of a penis.
2. This is an aggravated offence in as much as the penis is so miniscule as to be an offence against all womankind.
5. Touching while looking at the Womania Empire website.
These acts are not a criminal offense under Womania Empire law.
II.

the accused payslave mwhtp ( +payslavemwhtp ), UK
is found
GUILTY
of committing the serious crime of
UNAUTHORIZED MASTURBATION AND / OR EJACULATION
Self-indictment:
3. Wanking without permission on numerous occasions. Wanking without disclosure and payment of appropriate or contracted cum fees on numerous occasions.
4. Touching while looking at images of women and various websites.
DISRESPECT AGAINST WOMAN
Self-indictment:
6. Disrepecting women by accessing various sites, including (amongst others) adultwork, ebanned, niteflirt, findoms.com, hepays, WhatsYourPrice.
7. On occasion answering women back when i have had the impertinence to disagree with something they have said or written.
8. Insulting women by making repeated efforts to engage with and offer them money in the hope that they may engage with and touch me.
9. Frequent dirty thoughts, in which i have fantasised about intimate contact with women.
Court Verdict:

the convict is sentenced to:
a financial punishment of 200 US$ payable to Womania Empire Castle Fund
a corporal punishment of 55 strokes of the standart cane on naked ass executed by a Court Executrix of Womania Empire
a corporal punishment of 11 lashes of the leather single tail whip (length min.150 cm) on naked body executed by a Court Executrix of Womania Empire
written apology for his behavior against Women, published on Twitter from his twitter account @manwhohastopay – this apology tweet will be posted as his pinned tweet for period of 6 months. This tweet must contain hyperlink to his sentence on www.womaniaempire.com and a tag @WomaniaEmpire
Further provisions of the verdict:
The financial penalties are payable within 10 days after the effective date of this judgment.
The corporal punishments must be executed by May 31, 2019 by any Court Executrix of Womania Empire
Apology must be published on Twitter within 10 days after the effective date of this judgment
The convict has until June 11, 2018 the right to choose to pay a fine in the amount of 5 US$ per stroke instead of the corporal punishment
General provisions:
There is no possibility to appeal against this Judgment
The convict has the right to submit a request for mercy by the Empress in accordance with the relevant provisions of the Legal Standards of Womania Empire
June 3, 2018

Madame Gabrielle von Malendorf
Marquise of Womania Empire
Authorized Court Lady Officer
---

Case no: RCR0010 / SELF-INDICTMENT
---
Case no:
RCR0010 / SELF-INDICTMENT
Defendant:
payslave mwhtp (+payslavemwhtp)
Date: May 3, 2018
Authorized Court Lady-Officer:
Madame Gabrielle von Malendorf (+MadameGabrielle)
Case name: Self-Indictment of payslave mwhtp, UK
Self-indictment:
1. Possession of a penis. 2. This is an aggravated offence inasmuch as the penis is so miniscule as to be an offence against all womankind (photographic evidence attached). 3. Wanking without permission on numerous occasions. Wanking without disclosure and payment of appropriate or contracted cum fees on numerous occasions. 4. Touching while looking at images of women and various websites. 5. Touching while looking at the Womania Empire website. 6. Disrepecting women by accessing various sites, including (amongst others) adultwork, ebanned, niteflirt, findoms.com, hepays, WhatsYourPrice. 7. On occasion answering women back when i have had the impertinence to disagree with something they have said or written. 8. Insulting women by making repeated efforts to engage with and offer them money in the hope that they may engage with and touch me. 9. Frequent dirty thoughts, in which i have fantasised about intimate contact with women. i offer my most humble apologies and submit myself to the court's adjudication and such punishment as it determines i have incurred. Respectfully and submissively sam london manwohastopay (mwhtp)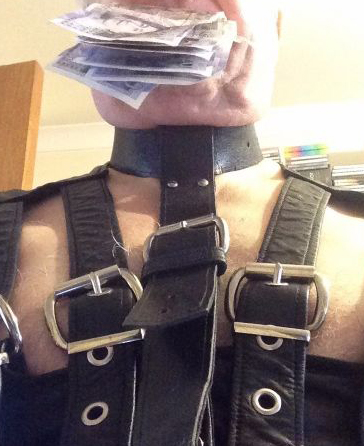 ---